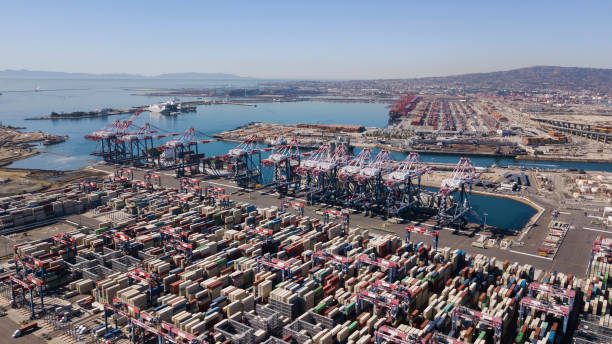 As of August 1, 2021 the PierPass Traffic Mitigation Fee (TMF) at the Port of LA/LB has increased by 2.2 percent. This adjustment is in-line with the 2.2% increase in longshoreman wages and assessment rates that went into effect in early July. The new PierPass rate is $34.21 per Twenty-foot Equivalent Unit, which translates to $68.42 for a 40ft or 45ft container.
While heavy congestion will likely always be an issue at the port of LA/Lb, the off-peak program and corresponding TMF was first established in order to ease congestion at the busiest port in North America by encouraging pickups during the "off-peak" or 2nd-shift. Anyone that wanted to pick up or deliver during regular business hours would have to pay the TMF as a punitive measure. Statistics show that after the implementation of the "off-peak" program, far more containers were picked up during the 2nd shift than before.
In 2018, PierPass abandoned the "off-peak" program and implemented a lower TMF that would now apply to all containers, regardless of pickup or delivery time. PierPass has dubbed this program "OffPeak 2.0". PierPass also implemented a unified appointment system for all terminals at LA/LB. Previously, only a handful of terminals used an appointment system which they administered independently.
The most significant repercussion of this change is the slowdown of the interchange of empty containers. Many terminals created a "dual transaction" rule stating that they would not accept any empty container returns if the driver was not also picking up a loaded container from that terminal. This created an avalanche of delays, causing laden containers to stack up at the ports, while empty containers stacked up in drayman's yards. The number one reason that carriers miss their port appointments is "chassis availability."
While some terminals may have eased their "dual transaction" requirements, the unified appointment system still causes widespread frustration amongst companies that need to do business with the port of LA/LB. It is easy to forget that before PierPass, for all intents and purposes there was no 2nd shift at the port. Some still question whether or not the individual terminals at the port would have organized a 2nd shift without PierPass leading the way. It can be argued then that overall, PierPass has still helped to ease congestion at the port and mitigate traffic in the surrounding area; even though the original "off-peak" program has now ended, the 2nd shift is still going strong at LA/LB. As a not-for-profit organization, PierPass brought in $235 million in 2020, offset against off-peak shift costs of $276 million for that same year. This leads to greater profits for steamship lines and their respective terminals at the port, which should serve to encourage them to keep doing business in LA.